Kinnevik
WINNER OF THE 2012 GOLDEN GAVEL – LISTED COMPANIES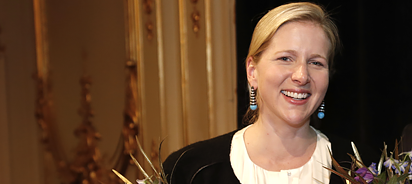 Following the sudden death of her father in 2002, Cristina Stenbeck took over the position of majority shareholder at Kinnevik with huge determination. She took over as Chair of the Board of the group in 2007, having spent several years as Deputy Chair.
Since then, Cristina Stenbeck has very much put her own personal stamp on the development of the Kinnevik Group. 
It now has a more clearly defined structure and greater transparency, and she has recruited strong, independent directors to the board which have brought vigour and dynamism to its work. At the same time, she has been a driving force for bold investments in new businesses and markets. In her role as Chair of the Board, Cristina sets high standards for well-prepared and structured meetings, which she leads with openness, responsiveness and a generous dose of humour while discussions are purposefully driven toward clear and informed decisions.
Cristina Stenbeck is an example of a modern company chair, with great commitment and the courage to make changes. She pushes her board to constantly focus on the future and improve the business, always with increased shareholder value as the primary guiding principle.
Fact file
Cristina Stenbeck
Born in 1977
Chair of the Board of Investment AB Kinnevik since 2007.
Educational background
Bachelor of Science, Economics, Georgetown University, USA.
Other current directorships
Board member of Metro International S.A., Modern Times Group MTG AB and Tele2 AB.
About the company
Company name
Investment AB Kinnevik.
Domicile
Stockholm, Sweden
Investment AB Kinnevik develops operating companies and manages a portfolio of long-term investments in a selected number of listed companies. The company's holdings operations are focused on the telecom and services, online, media, microfinancing, paper and packaging, agriculture and renewable energy sectors.
| | | | | |
| --- | --- | --- | --- | --- |
| Key figures | 08 | 09 | 10 | 11 |
| Turnover (MSEK) | 7892 | 8640 | 8919 | 8947 |
| Profit after financial items (MSEK) | -25872 | 16516 | 13737 | 6688 |
| Number of employees | 2048 | 1996 | 1943 | 2032 |