Löfbergs
WINNER OF THE 2019 GOLDEN GAVEL – PRIVATE COMPANIES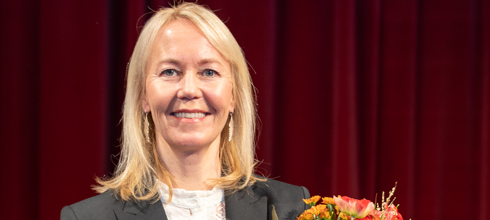 In 2015 Kathrine Löfberg became chairman in Löfbergs, a company that operates in a global market with very high competition.
As part of the owner family, Kathrine Löfberg has successfully managed to unite the owners and the management in a vision and long-term goal by her chairmanship. She has also created a climate where the Board of Directors aims to work with long-term and sustainable solutions for the good of the company. The fact that Löfbergs is one of the world's largest buyers of organic and Fairtrade labeled coffee is one of several examples of how Kathrine Löfberg has made a mark on the company's strategy.
As chairman, Kathrine Löfberg has exemplarily developed a professional board work in a modern family business to yet another level.
Bakgrundsfakta
Kathrine Löfberg
Chairman in Löfbergs
Educational background
Economics, Pepperdine University, Los Angeles. Communication and Marketing, Berghs School of Communication.
Other current directorships
Chairman of Bröderna Löfberg AB and International Coffe Partners. Commissioner in Sjöräddningssällskapet and Handelsbanken i Karlstad.
Company name
Löfbergs
Domicile
Karlstad, Sweden
Löfbergs was founded in 1906 by the Löfberg brothers, who in 1911 started to roast their own coffee in Karlstad. Today, the company is one of the largest family-owned coffee roasters in the Nordic region, with a production equivalent to just over ten million cups of coffee every day. Well-known brands within the Group of Löfbergs is Peter Larsen Coffee, Crema, Percol, Green Cup and KOBBS.
The business primarily targets grocery stores, hotels, restaurants, cafes, wholesalers and vending companies in Sweden, Norway, Denmark, Finland, England, Estonia, Latvia, Lithuania and Canada. The coffee is mainly purchased from South- and North America, which together account for 87 percent of the total purchase. In the 2017/2018 financial year, Löfbergs sold a total of 27,944 tons of coffee and 165 tons of tea.
Löfbergs is one of the world's largest purchasers of organic and Fairtrade labeled coffee and labels all its coffee as Fairtrade, organic or with the Rainforest Alliance. In this way, the company works towards its purpose to promote the environment and society. The company has also started the Next Generation project with the aim to, through education and financial support, create better conditions for young coffee growers in Colombia and Tanzania.
| | | | | |
| --- | --- | --- | --- | --- |
| Key figures | 15 | 16 | 17 | 18 |
| Turnover (MSEK) | 1 911 | 1 879 | 1 793 | 1 709 |
| Profit after financial items (MSEK) | 22 | 156 | 33 | 51 |
| Number of employees | 326 | 339 | 340 | 342 |