Kanonaden
WINNER OF THE 2012 GOLDEN GAVEL – UNLISTED COMPANIES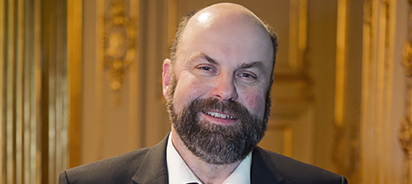 Kanonaden is a construction company based in Småland in southern Sweden. It specialises in contracts related to energy investment, primarily in wind turbines, high voltage grids and power plants. The company has grown from sales of SEK 60-70 million in 2008 to a turnover today of over half a billion while maintaining strong profitability.
Per-Olof Westlin has played a major part in this growth. Since being appointed chair of the board in 2008, Per-Olof Westlin has been deeply involved in resolving the liquidity crisis he inherited, building up a professional approach to financial processes and the appointment of a new Chief Executive Officer. He has brought order to the work of the board and created an efficient and effective structure of well-prepared meetings with focus on relevant issues, thorough documentation and strict follow-up of decisions. In addition, his business acumen and strong sense of entrepreneurship enable Per-Olof to contribute actively to crucial operational issues.
Per-Olof Westlin's achievements illustrate what impact an external chair can have in a highly entrepreneurial company in order to create a structure and order that enables fast, profitable and controlled growth.
Fact file
Per-Olof Westlin
Chair of the Board of Kanonaden Entreprenad AB since 2008.
Other current directorships
Board member of Derbo Förvaltning and Ydre-Grinden.
About the company
Company name
Kanonaden Entreprenad AB
Domicile
Tranås, Jönköping County
Kanonaden is a highly specialised construction company focused on contracts related to energy investment. The company is divided into four business areas: heating, cable laying, concrete and traditional Construction.
| | | | | |
| --- | --- | --- | --- | --- |
| Key figures | 11 | 12 | 13 | 14 |
| Turnover (MSEK) | 334 | 414 | 513 | 536 |
| Profit after financial items (MSEK) | 24 | 30 | 35 | 38 |
| Number of employees | 110 | 110 | 150 | 157 |