Atteviks Bil
WINNER OF THE 2012 GOLDEN GAVEL – PRIVATE COMPANIES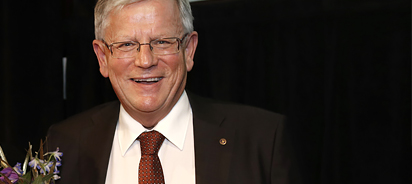 Atteviks Bil AB is a rapidly growing and profitable vehicle dealership and service company. The company has been family owned for three generations. The board comprises six representatives of the owner families and three external members, including the chair.
Since assuming the role of chair in 2005, Johan Markman has played a critical role in the company's development.
He was a driving force for a successful fusion of the car and truck businesses, and he led the recruitment of its first external CEO. Johan leads the work of the board with a calm and methodical hand, focusing sharply on analysis and comprehensive examination of the issues raised but also on making clear decisions and ensuring that these are enforced. He creates an open and inclusive climate and takes great care to also utilise the expertise and viewpoints of the younger family representatives.
With his visionary leadership, personal charm and a talent for diplomacy, allied with a wealth of experience from running a family business, Johan Markman has encouraged the board broaden its horizons and dare to think outside the box without losing focus on the company's long-term value creation. In a well-run family-owned company, a chair who can achieve this is well worth such recognition.
Fact file
Johan Markman
Born in 1949
Chair of the Board of Atteviks Bil AB since April 2005.
Educational background
Master of Engineering
Other current directorships
Chair of the Board of Trosa Stadshotell AB, Recognus AB and Quickbutton Badges AB. Board member of Camfil AB.
About the company
Company name
Atteviks Bil AB
Domicile
Jönköping, Sweden
Atteviks Bil AB is a car dealership and service company for Volkswagen, Audi, Skoda, Volkswagen Transporter and Scania trucks. The group's operations are divided into the subsidiaries Atteviks Personvagnar AB and Atteviks Lastvagnar AB and it owns all its own real estate. The company is based in the town of Jönköping, but is also active in the towns of Tranås, Eksjö, Nässjö, Ljungby, Älmhult and Växjö.
| | | | | |
| --- | --- | --- | --- | --- |
| Key figures | 08 | 09 | 10 | 11 |
| Turnover (MSEK) | 1252 | 1130 | 1368 | 1797 |
| Profit after financial items (MSEK) | 0 | 21 | 60 | 71 |
| Number of employees | 297 | 277 | 280 | 304 |